AUTHENTIC YOGA STUDIO'S HISTORY
I first stepped onto my yoga mat, really?… to get in shape more than anything or so I told myself. I talked a big game about trying hot yoga for a long time, and truly I walked in to my first class, filled out the form, signed up. Here I go! When the teacher stood up to ask me if I was staying to take class, my reply was "I'm coming back to the later class." I had gotten scared and decided to make up an excuse to get out.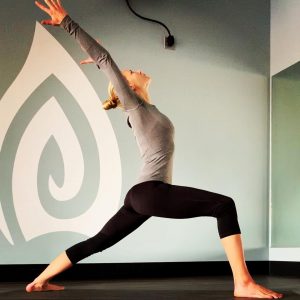 That "later" class was most certain "later"…4 months later. I didn't know how much I actually needed yoga at the time. I thought I was just going to get back in shape and sweat a lot. I gathered my courage and tucked away my shame for leaving the first time, only to walk right back in the same doors, to the same teacher. I know she didn't recognize me, but I knew our first interaction. I made it past her, into the changing room, and finally into the heated room. What was about to happen, I didn't know. I had tried to take an All Levels Yoga class at a smaller key entry gym a couple months prior to returning back for my first hot yoga class, thinking I needed to know what I would be doing. Boring AF!!! Not even going to lie. Not saying I wouldn't now have an appreciation for the class now, I most certainly do and all practice of yoga, but we all have the types of yoga we prefer and the classes we do because we need to. That class was just not my class, that day. I am certainly glad I took a chance to walk back into that heated studio, I don't think I would have continued to practice yoga at all.
I showed back up to the studio for the hot class. Still nervous. I brought the wrong mat, a super padded exercise mat seemed like my idea of what I wanted to be laying on in class, little did I know, it didn't make the best mat to actually practice yoga on. I felt out of place, unsure, and afraid I was going to puke in class. I struggled my way through a hard, hot, challenging class. I can't quite tell you if the confusion, or me questioning if I was doing it "right" was part of what was making it hard, but it was everything I needed. I couldn't put my finger on what that exact thing I "needed" was… but the feeling of accomplishment and contentment hit the spot. I was exhausted, sweaty, still a little confused, and I don't know if anyone can actually put into words the exact word of that feeling we get is, but it was amazing. I kept coming back, it was still hard, still challenging, but I was doing it…I was doing the work and it felt amazing. Physically I could feel my body become stronger, leaner, more mobile and flexible. Exactly what I originally showed up for.
Truly what I was really coming back for, and again I didn't know it then, was the feelings and the struggle I was was going through on the quest to come back to…well, Myself, was dissolving. Mentally and emotionally, all those things and words I was even scared to say, talk about, or even acknowledge in anyway. They were coming up and I was working through them, on my yoga mat, in my body…that's why I was coming back. I had been caring for the terminally ill mother for well over a year. A lot of trips and visits to the hospital, daily visits and many hours of just being there, watching her rest while she was getting an infusion or chemo. It was almost a full day event to get her ready to go anywhere. She was stubborn and self-sufficient and wanted to be put together when we left the house. On top of that, I was not only taking care of her by myself mostly, I was trying to balance my household. Get my son off and ready for school. My husband, at the time, was an addict. He had been in and out of rehab and it was a struggle just to get by day to day. My life was definitely "happening to me". Felt like it was burning down in front of me and I was rushing back and forth inside to get everyone out. (I'll save the story of what it's like for a family to live with an addict and what happens behind closed doors, what happens to your finances, or even hearing what's said, but it's a prevalent thing now, especially with the opiate crisis, or as I called it an epidemic, and this was many years ago. So, I'll save that story for later, it's a long one.)
Yoga was "the thing." I knew the vast difference that it was making in my life, I had to share it with others. No way I could keep this "secret" to feeling better to myself, I instantly knew I wanted to help share it with anyone and everyone who would listen, and even those who don't. I jumped into an almost daily practice immediately and it saved me in all sorts of ways I still can't put into words. I had to take a hiatus from yoga only because my mom and my life at home got even more complicated. My Mom was getting much worse. In February 2014, my Mom passed away. It was the hardest thing I had to do, watch, and let go of. I had been so gracious to have an amazing human in my life that loved me as much as she did, that taught me a lot of life lessons, and I am so grateful that I got to call her, "Mom." After she passed, I ran back to my mat. I "needed" yoga. My cousin gifted me an entire month of yoga, I practiced every single day. I continued to show up making it a part of my daily routine as much as possible. The opportunity finally presented itself for me to take teacher training. I drained my savings, without a question, which was unusual for me not only was I use to hiding money to make sure we had food at the house, the bills were paid for. I had been used to holding more than 1 job at time, in fact for 5 years I had been working at least 2 jobs, and for 3 of those 3 I had actually been working 3, sometimes 4 when I would pick up photography gigs. Never really spending money on myself because in my head I would turn it into "survival" mode, if I spent this and something happened and I couldn't afford to keep my kid fed and housed…then what. Scared, nervous, I did it anyways. I was the best choice I had ever made. It had started my path to my passion.
Fast forward past teacher training and starting to instruct a hot yoga class. Still being an avid practitioner, I was on my mat a lot. This was that "thing" that had been missing from my tool box to take care of me. The more I was on my mat, the more I discovered ways to start help and target specific groups working with yoga. I had always played sports as a kid. I absolutely loved them, I wasn't great at them, but I loved playing them. Being on my may so much, yoga had brought me experience and ways to be in my body to improve skills related to sports and active people. The more I branched out to work with specific groups and started getting amazing feedback and results from the athletes and former athletes, the more it fueled me to be up to something much bigger. The more people I worked with, the more I realized we were all much more connected than we think. Our hardships, our successes, our worries, troubles, things that keep us up at night, our life lessons we all learn…we all go through them. The more I learned, the more I was teaching and working with humans, I had this feeling burning inside of me I needed to be reaching more people, and talking to actual humans, not just "yoga students." Because those are the people that are starting to "get it" they walked in the doors, they did the hard thing. The feeling of urgency to help has always been a strong feeling that resides within me. Yoga, teaches you to follow your path so I stayed on my path. It took my right to a Baptiste Yoga certified teacher. My world changed again.
The first time I stepped foot on my mat during a Baptiste class, the feeling of "Home" settled into my body, my mind, my soul. It was different than the hot yoga I had been practicing for years, and not to take away from what brought me to my yoga mat and opened the door to my passion, but it was so much more than what I had been practicing. This was exactly what I had been waiting for. The confirmation that there is more than what I was teaching, there are more people out there to introduce yoga to, there was a different way to "teach" yoga students. I knew it was my "being up to something bigger." It opened up a bigger connection to myself, how I can hold space and lead. This is how I wanted to be able to share yoga with people. Since then I wanted to do nothing but share yoga and help others how to help themselves.
Since the end of 2016 I have been able to do nothing but focus on teaching yoga, meditation, and whole body well-being to others. I continued to work with specialized groups, designing a Yoga for Athletes class and continued to grow as a student and teacher. In the summer of 2018, an amazing opportunity made its way to me and it was time to decide to jump or not. Just like everything else, I questioned myself, my motives, my bigger picture idea. I knew I was blessed with being able to focus so much time on teaching, practicing, and learning about yoga. I took the biggest leap of faith in myself ever and was decided to be a "Yes" for what I wanted to do in life. I opened Authentic Yoga Studio in September 2018. It has been an amazing journey and a new beginning to an amazing community that has built itself with the beautiful humans that walk in the door.
Authentic Yoga Studio exist because of the people who I consider friends that walk in the doors. Thank you all for taking a chance on yourself, on me and our caring and loving teachers, for doing the hard work, for believing in you and showing up for yourself. That's what makes the community what it is. I can't wait for what the future holds as we grow. We remain focus to whole body wellness, not just a yoga workout. You are always welcome to come just for the workout, but don't be surprised when you leave with so much more.
What's in store for 2020? Room for growth, are you ready? More teacher training programs, workshops, retreats, nutritional training, self-work coaching and groups, mobile yoga, kids' programs, focused work groups (men, women, first responders, military). If you've never been in, come visit, be open to something new.  And please introduce yourself to me…come say hi!
Any questions please always feel free to contact me Amanda Mendez, owner, Baptiste Certified, E-RYT, YACEP. amanda@authenticyogastudio.com
CONNECTION
We view every interaction as an opportunity to create and strengthen connection.
ACCOUNTABILITY
We show up for each other through clear and direct communication. We hold each other to our word.
HOSPITALITY
We are committed to a warm and welcoming environment and facilities that are impeccably maintained in order to create an empowered experience.
PRACTICE
We practice what we teach as a commitment to growth and what we say we stand for.